St Patricks Day Las Vegas 2018
ST. PATRICK'S DAY LAS VEGAS 2018
In celebration of St. Patrick's efforts to convert pagans to Christianity, March 17 came to be known as St. Patrick's Day. The day celebrating the patron saint of Ireland landed stateside in 1737 and has been evolving ever since. Turning from holy to secular, St. Patrick's Day gives everyone a taste of the Emerald Isle, from green beer and shamrocks to leprechauns and blarney. Reconnect with your Irish roots or be an honorary Irishman this St. Patrick's Day, and check out the parties, pubs/restaurants, entertainment and other things to do on Saint Patrick's Day in Las Vegas. And if you need a place to stay, ourLas Vegas hotelshave you covered. Need a break from the brews?Las Vegas showsprovide the perfect respite for your liver. You're welcome.
THINGS TO DO ON ST. PATRICK'S DAY 2018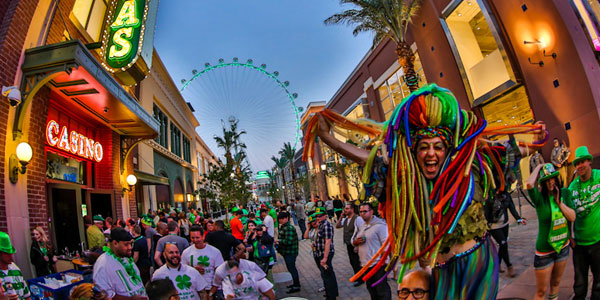 O'Sheas St. Patrick's Day Party at The LINQ Promenade
No matter how much you've been drinking, it's time to follow the rainbow and find that pot of gold at The LINQ Promenade. This is one party that won't stop until you start seeing four leaf clovers. Kick off the green beer celebration at 7 a.m. with a green brew at Tilted Kilt before checking out the parade down the Promenade at noon. There will be bagpipers, leprechauns, stilt walkers and anything else that screams St. Patrick's Day. If you're not a lucky person, this is your one shot to pick up as many four leaf clovers as possible to cover you for the next year. Spend your day bar hopping from O'Sheas to Tilted Kilt Pub before hitting Virgil's Real Barbecue and Amorino. The the whole district has specials that no Irish man or woman can pass on. Oh, and that includes the rest of you, too.
It doesn't get more authentic than Irish music. Especially when it's live. If you're the kilt wearing and riverdancing type, RÍ RÁ is the perfect place to plant your tooshie and have a stout. And if you actually know more about Ireland than its penchant for green -legendary musicians like The Crooked Jacks, The Black Donnellys and Craic Haus will be performing all day. Don't mind us, we're just practicing our dance moves.
Celtic Feis at New York-New York
New York-New York is going to be shamrockin' this St. Patrick's Day! Their Celtic Feis event is a Las Vegas tradition and this year will not disappoint. Starting on March 16, patrons can expect a parade from The Park that'll end with a flash mob on the Brooklyn Bridge in front of New York-New York. On March 17, guests can start the day off with a march led by The Las Vegas Pipe Band before getting down with tons of drink specials, a traditional Guinness toast and non-stop tradional grub. Yeah, we're excited.
Green Fireworks at The Plaza Hotel
Maybe we're pyro's, but there ain't no party like a fireworks party. Besides just speaking to our souls, The Plaza Hotel kicks the action up a notch by making the fireworks green! Awesome, right? The sky will be lighting up at 10 p.m., but all of the other fun stuff gets goin' at 7 p.m. Get here early, you won't want to miss it.
BEST PLACES TO EAT ON ST. PATRICK'S DAY 2018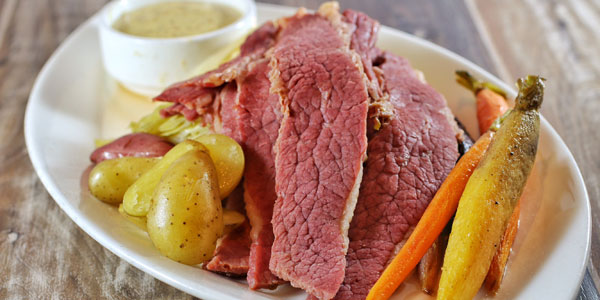 You may not be able to go to Ireland, but St. Patrick's Day at PUB 365 inside the Tuscany has so many drink specials you're not gonna care. Knock back a Smithwick's Irish Red Ale draft or Guinness draft. Be sure to check out PUB 365 on both days because you'll be able to dig into corned beef and cabbage and shepherd's pie. It's no pot of gold, but these rewards are just as cool.

Crush at MGM Grand
Come try to drink and eat like an Irishman at Crush's annual St. Patrick's Day bash. Wallow in traditional grub like Corned Beef, Soda Bread and a Brown Ale Irish Lamb Stew, and wash it all down with beer and Irish whiskey drinks. This party is going to be legit, so be sure to pace yourself. But we won't blame you if you can't keep up.

Nine Fine Irishmen at New York-New York
St. Patrick's Day is on a Friday; why not party on Saturday too? Nine Fine Irishmen at New York-New York is doing just that. Ten bucks gets you admission to the two-day party, which includes live music, food and drink specials and a parade throughout the resort. Thank your four-leaf clover because this is one of the best St. Patrick's Day parties in town.

Hofbräuhaus Las Vegas
Believe it when we say that you're going to want to party with Germans on St. Patrick's Day. Hofbräuhaus Las Vegas is offering their take on Irish classics like Creamy Leak Soup, Fried brie cheese and corned beef and cabbage. And feel free to celebrate with a little beer pong, shot-ski or a shot paddle. There won't be a St. Patrick's Day party like this in town.
IRISH PUBS IN VEGAS
St. Patrick's Day Las Vegas is a huge deal. So unsurprisingly, Vegas is home to multiple Irish pubs where visitors can raise a pint and have a good time. Regardless of where you're from, these laid-back pubs offer a fun, vibrant and friendly atmosphere that's perfect for enjoying drinks, hearty meals and live entertainment. They're good options for celebrating any day of the year, but come St. Patrick's Day in Las Vegas, these Irish pubs become hotspots for revelers on the hunt for their next shot of Irish whiskey or beer.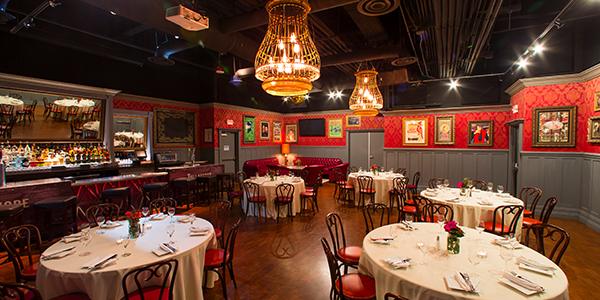 Rí Rá Irish Pub at Mandalay Bay
Anyone can create an "Irish bar" these days. But rather than creating an all-new pub, Rí Rá took relics from old Ireland pubs and salvaged, restored and retrofitted other items to create an authentic pub that'd stand as a testament to true Irish tradition (and make old men shed a tear of joy). The venue is composed of five sections, each with their own distinct pub theme. Along with the authentic fixtures, Rí Rá features an impressive lineup of bands flown in directly from Ireland. So, basically, the good times aren't limited to only St. Patrick's Day.
Hennessey's Tavern on Fremont Street Experience
Plenty of beer, fun and live music are on tap for the day. Located downtown underneath a giant pint of Bass, this is where you can order the world's largest pint. Served in a souvenir, 64-ounce glass, we won't tease you for nursing nurse this behemoth beer - or else you'll be nursing a hangover the next day!
McMullan's Irish Pub at 4650 W. Tropicana Ave.
Family-owned and operated, the pub occupies a fairly big space, half-sandwiched between a gas station and The Orleans. Highlights include live music and an outdoor patio area.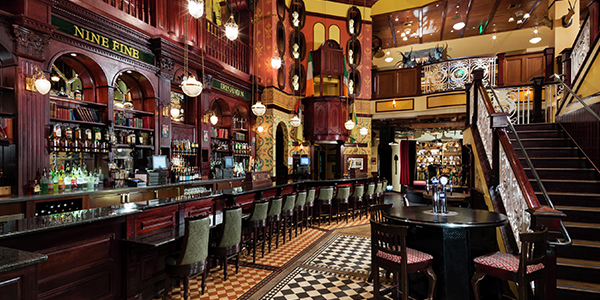 Nine Fine Irishmen at New York-New York
Another authentic import, this bar was completely assembled in Ireland before being disassembled, shipped to Vegas and then reassembled.The bar features a selection of draft beers including Guinness, Harp, Boddington's and Newcastle. It also serves a large selection of Irish whiskey from the two most popular distilleries in Ireland: Jameson and Bushmills.
O'Sheas Casino & Bar at LINQ Promenade
This Irish-themed gaming joint that originally opened in 1989 and closed its doors on April 30, 2012. The new incarnation of O'Sheas boasts two indoor bars - the central Dublin Up Bar and the corner Lucky Bar. Guests can order a variety of Irish, European and domestic beers here. There are some cheap draft beers and shots and creative cocktails. "Cheap alcohol" are two of our favorite words.
J.C.'s Irish Pub at JW Marriott
The pub is based on its creator's life in Dublin. Wooloughan, a global businessman, went so far as to have the pub built in Ireland by the Irish Pub Company and sent over in pieces. Every little detail from the wood and the tiles to the decorations is authentic. The pub features any kind of Irish drink you can imagine from Irish coffee, Blackthorn Cider and a variety of Irish whiskeys to popular beers such as Harps and Guinness.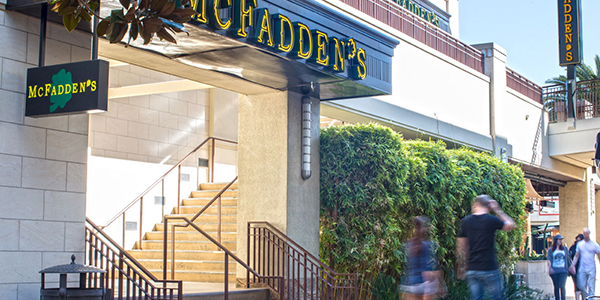 McFadden's Restaurant & Saloon at Town Square
McFadden's has a huge mahogany bar, so you know what that means. Dozens of draft and bottled beers! Among the signature libations are 80-ounce fishbowl cocktails. McFadden's also has a "bomb" shots menu, and Fireball Cinnamon Whisky is on tap. If the thought of dancing and drinking the night away makes you a little hungry, be sure to check out McFadden's restaurant menu, which features modern Irish items and other creative pub-style fare -- like Dublin Rolls, the Pickle Back Burger and the Lasagna Bun Burger.
Information for this article pulled from:
https://www.vegas.com/stpatsday/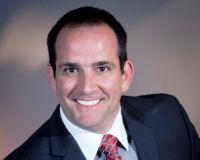 Author:
Richard Emanuele
Phone:
702-506-4090
Dated:
March 2nd 2018
Views:
484
About Richard: Richard Emanuele is a top Producing Real Estate agent who holds distinguished designations such as: ...