MARCH MAYHEM 2018 IN VEGAS
MARCH MAYHEM 2018 IN VEGAS
*Swiiiish, BUCKETS, THREEEEEE, In Your Face* These are a few things your drunk friend will be screaming at the top of his lungs when watching March Mayhem in Las Vegas. Gear up for the tournament with your war paint, your team jersey and double-fisting an ice cold beer. Head out to one of these awesome sports bars and channel the camaraderie, these two weeks are the most intense weeks for any sports fan. It might not be WWIII, but it will sure feel like it if your team loses. It's a 50/50 chance at this point, so place your bets on your favorite college basketball team and may the best one win.
SHARED BY Wariya Landa with Team Emanuele Real Estate at Simply Vegas (702) 480-1533 3042 South Durango Las Vegas Nevada 89117 if you are looking to buy or sell a home in the Las Vegas Valley give me a call . I appreciate the opportunity to earn your business. "Expect Excellence"

MARCH MAYHEM FEATURED PARTIES 2018
HOOPS MADNESS PARTY AT HARD ROCK CAFE ON THE STRIPCatch the college hoops action with drinks and foodbook now
CRAZY HORSE IIIScore points at Crazy Horse IIIbook now
SAPPHIRE LAS VEGASCatch the action live at Sapphirebook now
WHEN YOU'RE NOT WATCHING THE GAME

VEGAS NIGHTSLas Vegas lights up at night, and there's no better way to see the neon on the Strip and downtown than from the air.reserve now

MINI BAJA CHASE AFTER DARKRace a dune buggy through the desert at night as the lights of the Strip beckonreserve now
BIG BUS TOUROnce aboard the open-top bus you will find yourself immersed in the details that created the famed Las Vegas Strip along with plenty of photo opportunities.reserve now

RICHARD PETTY AMERICAN MUSCLE CAR CHALLENGEThrill to race a muscle car around a test track at the Las Vegas Motor Speedwayreserve now

RICHARD PETTY DRIVING EXPERIENCEDrive like a pro at speeds up to 137 miles per hour in a V-8 NASCAR style stock carreserve now

ALL AMERICAN TOUR WITH LIMOFly into the depths of the Grand Canyon by helicopter and enjoy a champagne picnic below the rim. You'll have plenty of time to explore and take pictures of the remarkable landmark.reserve now

SUN BUGGY DESERT RACINGRace a custom-built mini Baja dune buggy through the Nellis dunesreserve now

THE RANGE 702Experience the largest indoor shooting facility in Las Vegas with 25 shooting lanesmore info
VEGAS INDOOR SKYDIVINGTake the plunge in Vegas and experience the thrill of skydiving indoorsmore info
SHOWS TO WATCH DURING YOUR DOWNTIME
ABSINTHERaunchy with a side of zingers.book now
BLUE MAN GROUPAre you feeling blue?book now
CRISS ANGEL MINDFREAK LIVETime to let the magic happen.book now
KÀ BY CIRQUE DU SOLEILThis action-packed thriller will keep you on the edge of your seat.book now
LE RÊVE - THE DREAMThe internal battle between love and lust unfolds in Le Rêve - The Dream.book now
LOVE BY CIRQUE DU SOLEILAll we need is love.book now
MICHAEL JACKSON ONE BY CIRQUE DU SOLEILWatch the King of Pop's work come to live on this stage.book now
O BY CIRQUE DU SOLEILDive into the deep end with O by Cirque du Soleil.book now
PENN & TELLERSee how all the magic happens.book now
ZUMMANITY BY CIRQUE DU SOLEILUnleash your inner sexual side.book now
TOP SPORTS BOOKS FOR WATCHING MARCH MAYHEM
Aria: Place your bets in a comfortable environment at the 10,000-square-foot Aria Race & Sports Book. Conveniently located off the main floor of Aria, guests can relax on comfortable couches or in chairs with separate monitors. A total of 90 monitors are placed throughout the sports book. There are also two 9 foot by 16 foot big screen televisions. More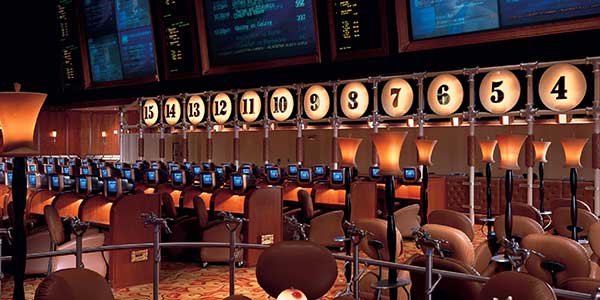 Bellagio: The Bellagio race and sports book is one of the most luxurious places in the world to make bets and follow the action. Nestled in a corner of the upscale hotel-casino, the sports book is open and inviting, yet more intimate than some of the larger sports books found elsewhere in Vegas. From deep, plush leather commander's chairs to impeccable service, an understated but readily evident elegance is the theme here. Always catering to high rolling sports fans, the Bellagio has some of the highest betting limits in town. There are 51 TVs plus 99 individual desks. More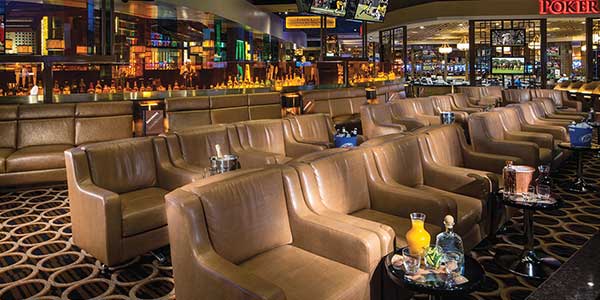 Caesars Palace: Pleasantly dark and atmospheric, the Caesars race and sports book is a quintessential Las Vegas "mega-book." Within the cavernous and exciting venue there are plenty of seats with individual TV monitors for horseplayers, and race and sports fans alike can follow the action on several monstrous TV screens and an ample number of smaller monitors. There are six 12 x 15-foot screens, 12 50-inch plasmas and a 20 by 50-foot LED board. There are 140 sports seats with a 12-inch flat screen at every table. Plus, when hunger hits, Bobby Flay's excellent Mesa Grill is only steps away. More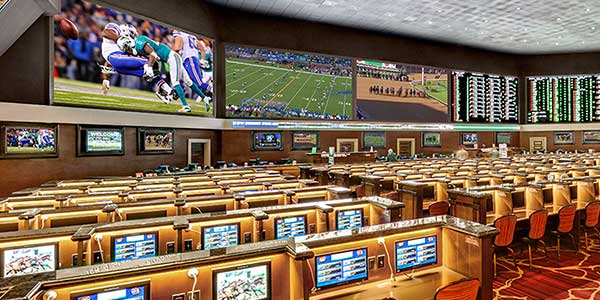 Green Valley Ranch: Located minutes from the Strip, the huge race and sports book at Green Valley Ranch is a favorite among locals. 200-plus screens, many plasma, display sporting events of all types. With restaurants and shopping galore at Green Valley Ranch, you can arrive early and get in some extra fun before the game. More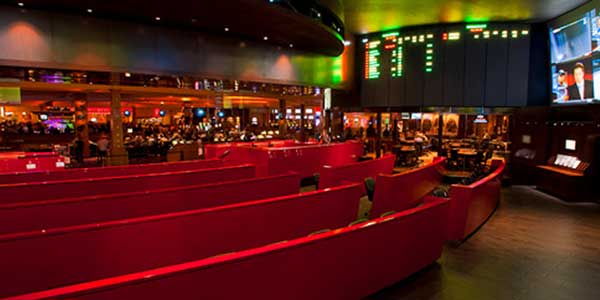 Hard Rock Hotel: The Hard Rock could be the perfect venue for music-loving sports fans. Bets on the games can be placed at the sports book. The "world's first rock 'n' roll hotel and casino" is always full of action, and the sports book is certainly no exception. With 6 HD projectors, configurable up to 25 screens total, the sports book at Hard Rock offers a more intimate experience than most others found in Vegas. More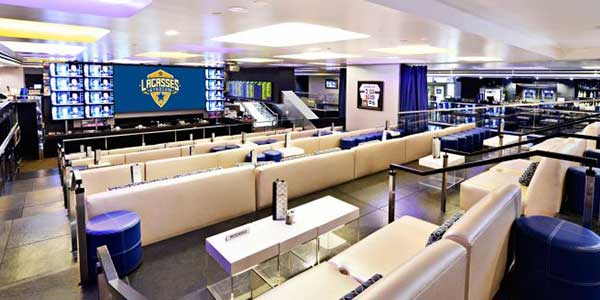 Lagasse's Stadium at the Palazzo: Lagasse's Stadium at the Palazzo features luxurious seating with plenty of pillows to sink into and watch your favorite game. A highlight of this sports-viewing mecca comes in the form of a large, 10-foot by 20-foot projection screen, complete with stadium style seating. Even better, Lagasse's Stadium at the Palazzo also has a tasty full menu designed by Emeril Lagasse and full bar.More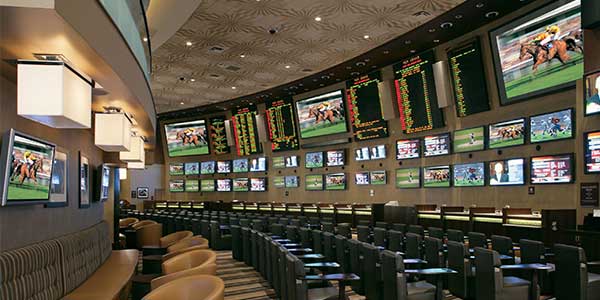 MGM Grand: This modernistic, sleekly designed sports book offers an expansive, state-of-the-art vantage point into the game. Even more, the VIP seats here create harbors for serious sports aficionados. Just off the sports book, Sunday revelers will find the architectural and mechanical mastery of the Centrifuge Bar. There are seats for 104 people and screens including 36 65-inch televisions and 24 42-inch plasma televisions.More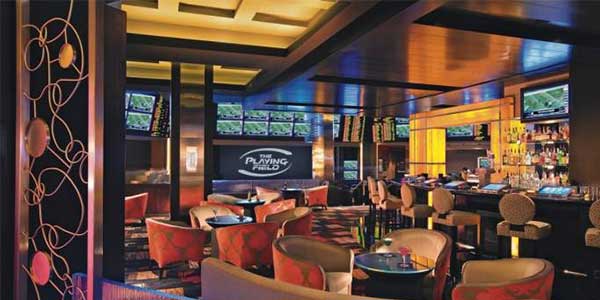 Planet Hollywood: Despite its intimate size, Planet Hollywood's race and sports book is cleverly designed, making every seat perfect. Seating areas are arranged stadium-style, and the 33 plasma TVs are strategically placed on the bottom level for optimum viewing. The surrounding sports bar has additional seats and TVs and is a comfortable, modern place to enjoy a drink and catch some action. However, neither the sports bar nor book has a big-screen TV. More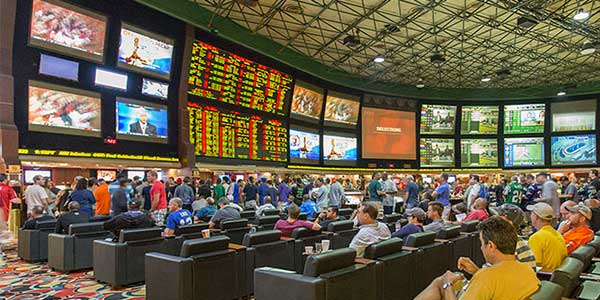 Westgate Las Vegas & Casino: When this sports book opened in 1986, it set the standard for a new generation of race and sports books in town. Boasting 350 seats, it soon became known as the original "SuperBook," the eighth wonder of the gambling world. The Superbook features 30,000 square feet with 28 giant screens, and one massive 15 by 20-foot screen for a grand total of more than 60 viewing monitors. More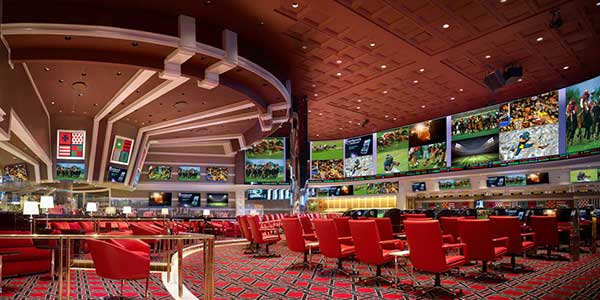 Wynn: Steve Wynn's resort boasts one of the most luxuriant and exciting sports books.It merges state-of-the-art, multiple screened action with a deep wood-toned lounge setting. There are 37 plasmas and three big screens, the largest of which is 12 feet by 12 feet. Just off the main floor of this stunning resort, the Wynn sports book is a popular place for high-rolling sports fans when the game gets going. More
TOP SPORTS BARS FOR WATCHING MARCH MAYHEM
Looking for a place to cheer on your favorite team in Vegas? Of course, you'll want to choose a bar that offers tasty snacks, multiple beers on tap, numerous flat-screen TVs and a rowdy crowd. Don't worry, there are plenty of spots that fit the bill. If you're a sports fan, here are some of the hottest places to eat, drink and watch the day's big games in Sin City.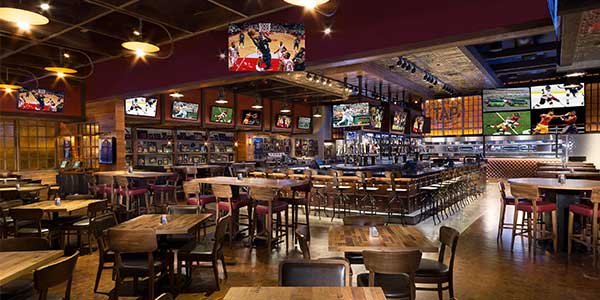 Tap at MGM Grand
This 220-seat restaurant and sports bar features a wide selection of draught and bottled beers along with 60 flat-screen HD televisions. The food is also a winner at Tap thanks to items like the sloppy joes, cheese steak sliders and sourdough pretzels. And there's an extra incentive to go: you'll be surrounded by sports memorabilia from some of the biggest sporting events ever held in Las Vegas.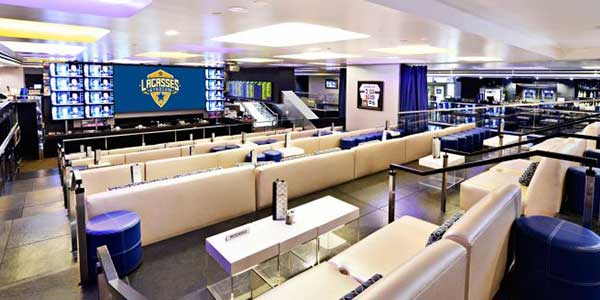 Lagasse's Stadium in The Palazzo
You'll be in expert hands here because celebrity chef Emeril Lagasse is an avid sports fan himself. A combination of a sports book, restaurant and lounge, Lagasse's Stadium has more than 100 HD screens and a menu of tailgating favorites with a New Orleans twist – like the shrimp po' boy or the pork nachos. If you want to splurge, splash out on one of the sky or luxury boxes, which feature comfy seating that will rival the feeling of being on your sofa at home…except that when halftime hits, you can play a game of billiards or step out onto the patio and take in a view of the Las Vegas Strip.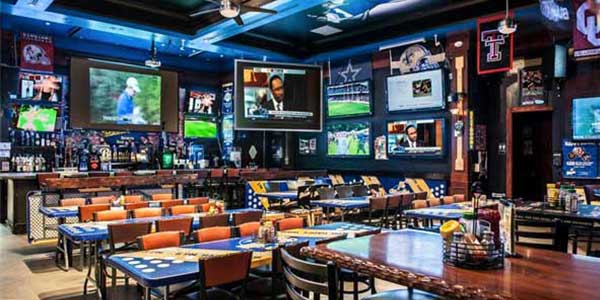 Blondies Sports Bar & Grill in the Miracle Mile Shops at Planet Hollywood Resort & Casino
If you're seeking a tame and not-too-noisy sports joint, this is not the place. Blondies is best known for its over-the-top atmosphere where you'll be served by a sexy bar staff clad in cheerleader uniforms. There are more than 40 flat-screen TVs, ranging in size from 12 to 32 feet and broadcasting the day's major NCAA, NBA, NFL, NHL, MLB and NASCAR events. With beer pong tables always ready and waiting, it's no wonder why Blondies tends to be a hot hangout with college kids (and kids-at-heart).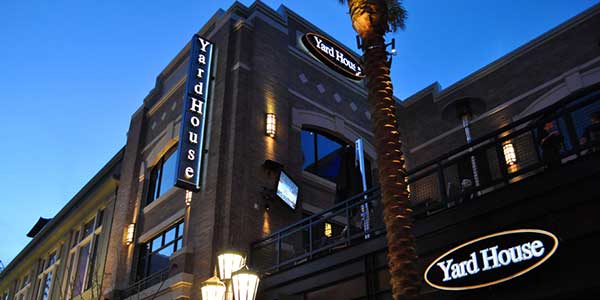 Yard House at The LINQ Promenade
Located next to the eye-catching High Roller observation wheel, which is dazzling both by day and when lit at night, this 50th location of the popular Southern California-based chain. Encompassing two stories and more than 18,000 square feet, this is officially the largest Yard House in existence. Before you sit down in the bar, massive dining room or on the patio to watch sports (note: a fleet of flat-screen TVs is located throughout this place), stop and get a good look at the glass-enclosed keg room, which houses thousands of gallons of beer. In fact, if you're someone who likes making choices, you'll have more than you can imagine at Yard House. You can pick from a selection of 160 taps of imported, craft and specialty ales and lagers and 130 menu items ranging from sliders and lettuce wraps to flatbreads and street tacos.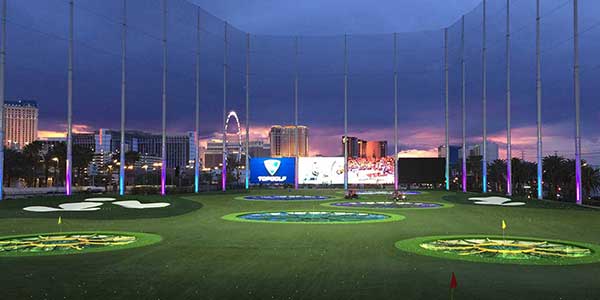 Topgolf by MGM Grand
There's a lot of bball games going down during the madness, it's almost impossible to catch them all. Well, times have changed people! We're not living in the dark ages anymore, now bars are fully loaded with tons of TVs. And Top Golf gives you multiple screens that are "uuge!" But what do you do with all those commercial breaks, time outs and player injuries (cross your fingers that it doesn't happen for the sake of your bracket)? That's easy, tee up and start hitting balls. Don't worry, you won't miss any screen time, because they have huge TVs at the end of the green. If there was a fun-o-meter, this place would be off the charts.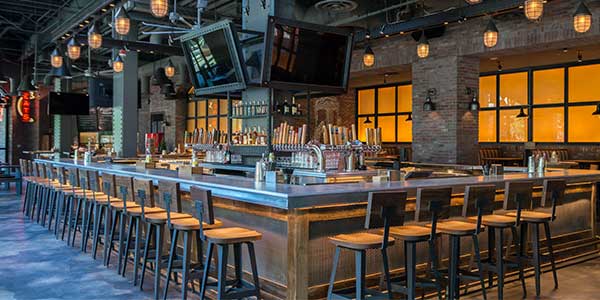 Beerhaus at The Park
Brews, on brews, on brews. That's what you'll get at Beerhaus at The Park. Not only do they have a bazillion TVs for you to catch all the games, but they have competitive games like Jenga and ping pong to keep the competition alive off the court as well. This is a great spot to grab a beer with your buddies, watch a few games and compete for the NCAA trophy. After all, you do feel like you're part of the team after following them through the tournament. Now, the only thing you have to worry about is your bracket. We didn't want to bring it up, but we know how it went last year, it was quite unfortunate.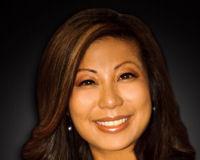 Author:
Wariya Landa
Phone:
702-480-1533
Dated:
March 10th 2018
Views:
324
About Wariya: Wariya Landa, Is a top producing Real Estate agent that has resided in Las Vegas for over 15 years....