Best Halloween 2017 Events In Las Vegas

Best Halloween 2017 Events in Las Vegas
All The Las Vegas Halloween Events You'll Actually Want To Go To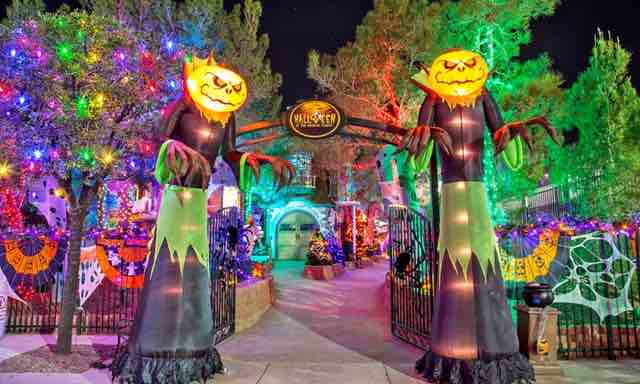 Every weekend in October 2017 Opportunity Village will transform the Magical Forest into HallOVeen. This all ages eve...Read more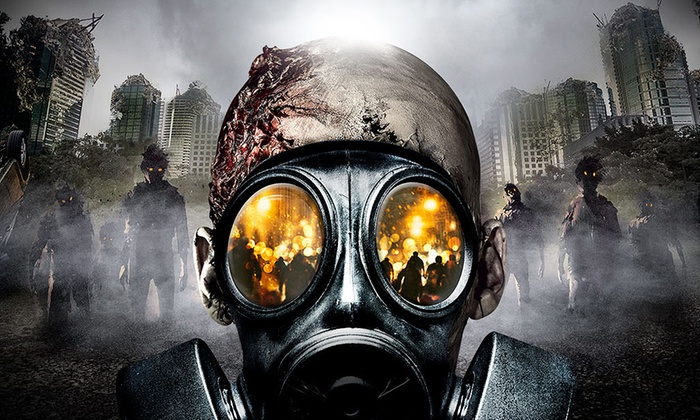 Bust out your Depends folks, because Fright Dome is back and ready to get you into the Halloween spirit. Dubb...Read more
Springs Preserve Haunted Harvest Spooktacular
Springs Preserve's annual Haunted Harvest is a family-friendly event that's fun for all ages. The spooktacular Haunted Harvest at Springs Preserve features a haunted hay maze, trick or treat stations, carnival games, live entertainment, a petting zoo, "haunted" train rides and much much more. For an additional $3 for members and $5 for non-members, guests can take a "haunted" train ride! These train rides sell out fast - be sure to get your tickets soon!
When: October 13-15, 20-22, 27-29, 2017 from 5 - 9pm
Where: Springs Preserve
Admission: $8. Children ages 2 and under free. Springs Preserve members receive 50% off.
Restrictions: None
Phone: 702-822-7700
Nevadaween
Nevadaween combines the fun of Halloween and celebrates the Birthday of Nevada! Family fun activities start at 9 am with Pumpkin Painting, and the Children?s Costume Contest for ages up to 12 years old at 10am, Soup Cook-off at 11am, and more!

When: Various dates in October 2017--see above.
Where: Old Las Vegas Fort. 500 E. Washington Ave. Las Vegas, NV 89101 Price: $1 per person, children 12 and under are free Phone: 702-486-3511
Halloween at Bellagio The Conservatory Artistry of Autumn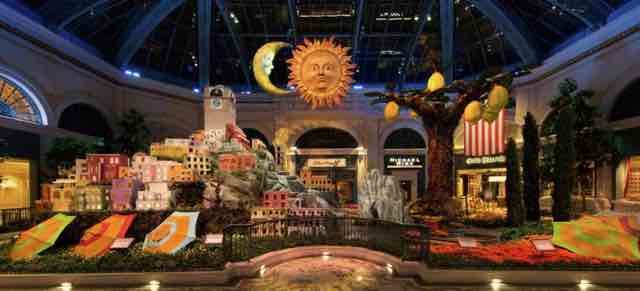 Enjoy a fall harvest with the Conservatory's Artistry of Autumn. Pumpkins, birches and autumn mums are on display.
When: September 16 - November 25, 2017
Where: Bellagio hotel
The LINQ Promenade Zombie Apocalypse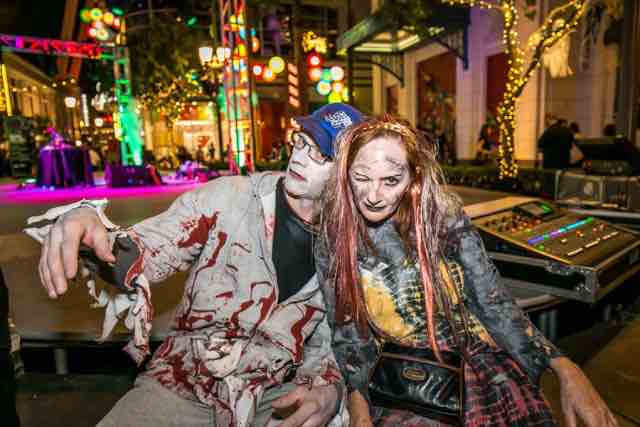 This year, The LINQ Promenade and High Roller are throwing a spooktacular Halloween extravaganza with three different events beginning with The Zombie Escape, opening on Saturday, October 8, 2017. During TRIQ or Treat and a Halloween Celebration on the weekend of October 29 - 31, 2017, the LINQ Promenade will be decorated, offer family-friendly music, host face painters, stilt walkers and a zombie LED drumline at the top of each hour. General admission tickets start at $20. The Zombie Escape will be open every Wednesday - Sunday for the month of October featuring a special celebration on Halloween night.

When: Various dates in October 2017--see above.
Where: The Linq Promenade
The Asylum and Hotel Fear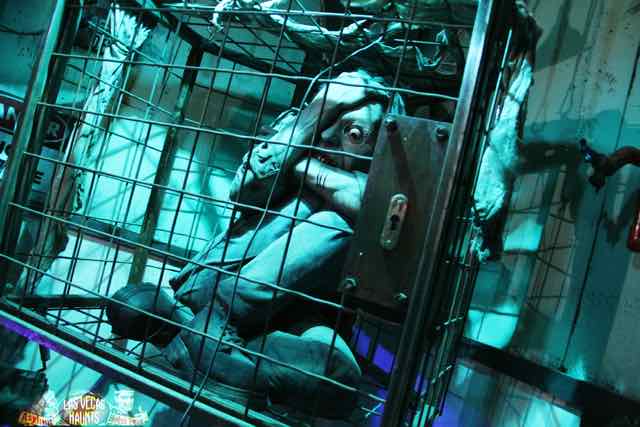 Located at the Meadows Mall, The Asylum and Hotel Fear take "victims" on the most frightening adventure of the season. The Asylum began life as The Meadview Health Sanctuary in the late 1800's. Once a cutting edge facility like the Kellogg facilities of Michigan, its purpose was to foster good health through controlled diet, exercise and regulated purging of the intestinal tract. As its theories on health fell from social prominence, the facility declined into disuse.
The Feoray family emigrated from Europe where they owned and operated an inn. When Jonathon Feoray came to the states as a young man, he brought with him the knowledge and experience of the family business. He worked at several hotels and inns as he traveled across the country?little did he know his travels would end in his own peril.

When: October 5-8, 12-15, 19-22, 26-31, 2017.
Price: $15 - $20
Where: Meadows Mall, 4300 Meadows Lane, Las Vegas, NV 89107

Freakling Bros. Horror Shows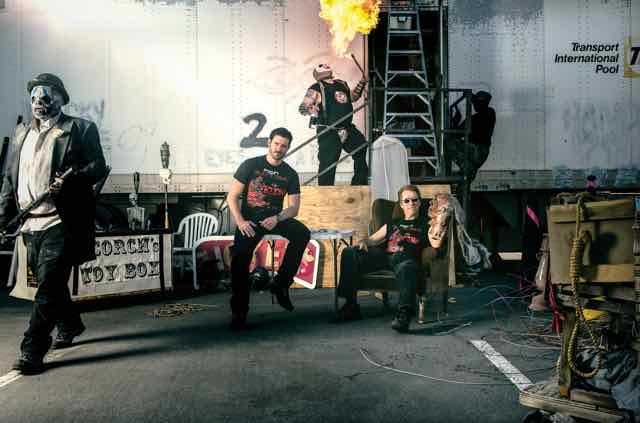 If you're the kind of person who's hard to scare, here's a review snippet for you from Edge Las Vegas: "There is no other Halloween attraction in the Southwest ? not Fright Dome on the Las Vegas Strip, not the Queen Mary in Long Beach, not Knott?s Scary Farm in Orange County..." Not conviced? Try it out. Located at the Grand Canyon Shopping Center, it isn?t too far from the Strip or for locals around town.

When: Sep 29 - October 1, October 6-8, 13-31, 2017.
Price: Starting at $15
Where: 4245 S Grand Canyon Dr, Las Vegas, NV 89147
Boo Bash
Housing and Residential Life and the Tonopah Complex are excited to announce UNLV's most 'spooktacular' annual tradition: Boo Bash! Boo Bash gives local underprivileged children and their families a safe and fun place to Trick-or-Treat and enjoy Halloween-style festivities here in fabulous Las Vegas! Each year, almost 1,000 area children and their families attend the event that features "haunted houses," carnival games, large inflatables, and plenty of candy! UNLV's oldest residential community is preparing to transform its halls and open its doors for another great Boo Bash event!

When: October 30, 2017 at 5pm
Where: UNLV Student Union Ballroom at UNLV, 4505 South Maryland Parkway, Las Vegas, NV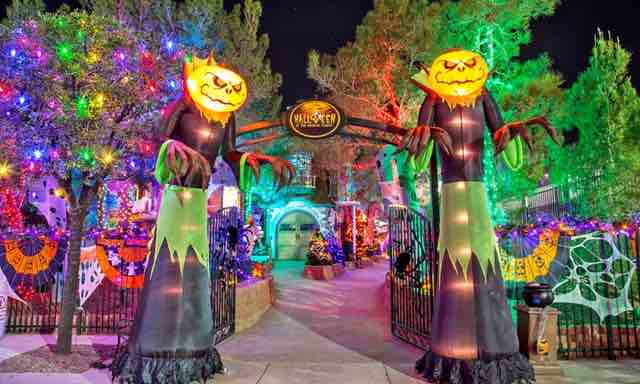 Every weekend in October 2017 Opportunity Village will transform the Magical Forest into HallOVeen. This all ages event features games, an enchanted carousel, an avalache slide, mini golf, a ghost train ride, tons of tasty treats, and other Halloween attractions

Prices: Get tickets from $25 - 29% off!
When: October 13-15 & 20-31, 2017 from 6 to 10pm
Where: 6300 W. Oakey Boulevard, Las Vegas, NV 89146
Ages: All ages
Buy tickets ⋅ FAQ ⋅ Map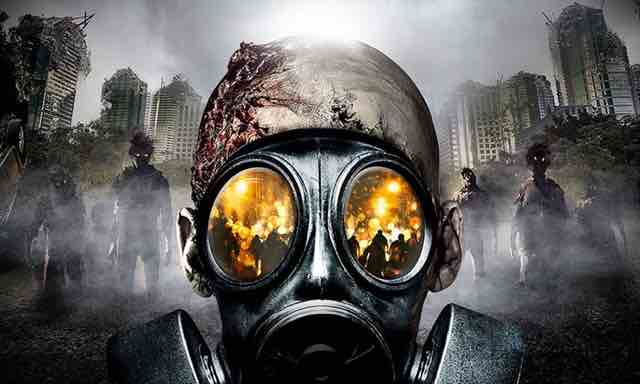 This is a classic Las Vegas oldy but goodie Halloween attraction. Located inside of the Adventuredome at Circus-Circus, Fright Dome offers more than 250,000 square feet of gory and horrifying creatures throughout six haunted houses and five scare zones. Fright Dome has been horrifying the masses since 2003.

When: September 29 - October 31 from 7 to Midnight
Where: The Strip, Circus-Circus Fright Dome
Prices: Admission starts at $30.99
Ages: Kids 12+. Height requirements of at least 42" to experience houses.
Hershey's Chocolate World Free Candy Corn Crème Bar
On October 31, 2017 from 9am to 11pm, all who visit Hershey's Chocolate World, located outside of New York-New York, will receive a complimentary snack size Hershey's Candy Corn Crème Bar to indulge your appetite!
When: October 31, 2017 from 9am to 11pm
Where: Hershey's Chocolate World at Luxor hotel
Hello all!! We're just waiting on updates for the following old events. Stay tuned :)
Zombie Zone and Creepy Car Show at Village Square
When: Thursday, October 15, 2015 from 5 to 9pm
Where: Village Square 9400 West Sahara Avenue, Las Vegas, NV 89117
Zombie Precinct Haunted House
The Brooklyn Bridge at New York - New York hotel has been transformed into the "Zombie Precinct" awaiting the death of Inmate #13 surrounded by zombies, creatures, and lightning bolts. Become an official investigator and help end the curse of Inmate #13. This event is open 10/8 through 10/31 from 6 pm until real, real, late! Tickets are $20 and can be purchased at the Zumanity Box Office.
When: October 8 to 31
Where: Brooklyn Bridge at New York-New York hotel. New York - New York is located at 3790 Las Vegas Blvd. South Las Vegas, NV 89109
Phone: 740-6969
Artsy Mommies Halloween Party
Please join us for a fun-filled afternoon of games, crafts, Halloween treats and lots of great memories! The cost is $5 per wristband for ages 2 and older. Our Halloween Party will include crafts, games, prizes, food and drinks. This is going to be a really great party!! Bring the children dressed in their costumes! If any of you would like to donate cakes or a dessert for a cake walk, that we be really awesome. :) We are planning games inside and outside which also includes a candy hunt. I hope everyone can make it. Great family event!
When: Begins October 18, 2015 from 2 - 4pm
Where: Artsy Nannies, 6569 South Las Vegas Boulevard, Las Vegas, NV

Mountain Crest's Halloween Event
Free event for the whole family. First 20 people to register gets a free pumpkin. Bounce House, Cake Walk, Costume Contest, Halloween egg hunt. Snack refreshments will be served.
When: October 23, 2015
Where: Mountain Crest Park, Picnic Area B, 4701 N. Durango Dr., Las Vegas, NV 89129
Phone: 702-455-1905
Halloween Virtual 5K / 10K / Half Marathon
Run/Walk at any location you want. You can use the treadmill, run outside, your own course, another race, or get your running group together. You can run the event any day before the race end date.
When: October 24, 2015
Where: 179, North Las Vegas, NV 89030
Phone: 717-266-2227
Web: http://usroadrunning.com/
A Haunted Halloween Pajama Party
Wear your costumes or scary pajamas to our special Halloween pajama party. We will read spooky stories, sing scary songs, and make frightening crafts.
When: October 26, 2015
Where: 951 W Lake Mead Boulevard,Las Vegas, Nevada
Phone: 702-507-3760
Web: http://lvccld.org/events/event.cfm?nID=12012
Halloween Puppet Show
Join your favorite puppets for trick or treats and spooky tales!
When: October 27, 2015
Where: 1401 E. Flamingo Rd, Las Vegas, Nevada
Phone: 702-507-3400
Web: http://lvccld.org/events/event.cfm?nID=11837
Boo-a-pa-looza Puppet Show!
Have a spooky good time at our Halloween puppet show storytime. Age Group: Kids Age From: 0 To: 11
When: October 27, 2015 at 4pm
Where: Rainbow Library 3150 N Buffalo Dr, Las Vegas, NV

Pumpkins and a Witch
Can a witch make pumpkins do whatever she asks them to? Bring your little pumpkin to this Halloween toddler storytime to find out. Age Group: Kids Age From: 1.5 To: 3
When: October 27, 2015 at 10:30am
Where: Sunrise Library, 5400 Harris Ave, Las Vegas, NV

Phone:

Halloween Babytime
Join LVCCLD for this non-scary Halloween themed stories, rhymes and songs. Costumes are welcome!
When: October 28, 2015
Where: 833 Las Vegas Blvd. N. Las Vegas, Nevada 89101
Phone: 702-507-3500
Web: http://lvccld.org/events/event.cfm?nID=12419
Fright Family Night @ Chuck E. Cheese
Come one come all for a Fun Fright Family Night out in October wearing your Halloween costumes. Just before Halloween come join Gragson ES as we rasie money for our school with games, food & laughs with your own families. I'll be giving out 10 free token stickers just for the kids attenting. *Gragson PTA will be handing out candy and suprises for all kids in costume that night. Working on a costume contest just gotta wait to hear back to make sure Chuck E. Cheese is ok with it. Bring your family out and let's end Oct with a big smile for the kiddos.
When: October 29, 2015 from 3-9pm
Where: 350 N Nellis Blvd Suite 100, Las Vegas, NV
Phone: Various, please see above

Halloween Spooktacular Puppet Show!
Celebrate Halloween with a spooky puppet show!
When: October 29, 2015
Where: 5400 E Harris Avenue,Las Vegas, Nevada 89110
Phone: 702-507-3900
Web: http://lvccld.org/events/event.cfm?nID=12327
Halloween Express
All aboard! The Nevada Southern Railway train will be decorated in a Halloween theme. Kids in costume ride free!, enjoy story time and crafts on the train, free games and face painting, and there's a Pumpkin Patch in Bone Yard. Pumpkins are $5.
When: October 29th and 30th at 10am, 11:30, 1pm, and 2pm.
Where: Nevada Southern Railway - 601 Yucca Street, Boulder City, Nevada 89005
Phone: 702-486-5933
Web: www.nevadasouthern.com
Halloween at MGM Grand for Mom and Dad
After the kids have had their fun trick or treating in a spooky costume it's time for grandma and grandpa to watch the little ones sleep and for mom and dad to have fun! Halloween at MGM Grand is an adult spookfest and fantasy land with five events taking place. October 28 Studio 54 will feature Electric Scream with DJ Loczi. October 29th, again at Studio 54, is the 3rd Annual Hollyween hosted by Holly Madison with a special performance by Josh Strickland. The 30th at Tabu: Confession with DJ Shift. And on Halloween night, Studio 54 features Beaux Arts Ball and Tabu features DJ Zhaldee
When: October 28 - 30, 2015
Where: MGM Grand Hotel

Haunted House for Children
Come feel the chills and the horror in our haunted house. We will continue the scary fun with Halloween games and crafts. This program is held in the main theater area.
When: October 29, 2015
Where: 1401 E. Flamingo Rd, Las Vegas, Nevada
Phone: 702-507-3400
Web: http://lvccld.org/events/event.cfm?nID=11785
CenturyLink's Trunk or Treat Free Halloween Event to benefit United Way of Southern Nevada
Free and open to the public, CenturyLink's Trunk or Treat Free Halloween Event to benefit United Way of Southern Nevada will feature activities for the whole family to enjoy including:
Bounce houses

Petting zoo

Photo booth

Costumed characters

Major League Baseball pitching game.

Dozens of community partners with decorated car trunks filled with treats for families will be on site.

Snacks and carnival games will be available for purchase with all of the proceeds from this event to benefit the United Way.
When: October 27, 2017 from 6 - 10 pm
Where: 3436 Aldebaranve, Las Vegas, NV
Phone: 702-349-5753
Admission: $1
Trick-or-Treat at Barnes and Noble
Join us for a fun Halloween Storytime in your Halloween costume. After our story, you can trick-or-treat around the store.
When: October 30, 2015 from
Where: Barnes & Noble Summerlin. 8915 W Charleston Boulevard, Las Vegas, NV

Pumpkin Carving & Costume Contest
Join us for our Halloween festivities! We will be searching for the best, scariest, funniest pumpkin as well as the best costume.
When: October 30, 2015 from 5:30 to 8pm
Where: Family ATA III Martial Arts, 183 N Gibson Rd Suite 130, Henderson, NV

Las Vegas Halloween Parade 2015
The 6th Annual Las Vegas Halloween Parade (LVHP), will be held on Halloween night, Saturday, October 31, 2015. All interested in joining the parade should arrive, in costume, at the staging area ON 13TH STREET AND FREMONT beginning at 4:30 p.m. THE ROUTE: Starts at 13th & East Fremont Street, and ROLLS WEST to 8th Street for after event The 2014 Las Vegas Halloween Parade had over 3,500 participants and an estimated 30,000 people watching on the sidelines. A French TV reality show filmed the 2012 parade and said it was the best parade they had ever witnessed!
When: Saturday, Oct. 31, 2015
Where: Fremont Street East from 13th Street to 7th Street, Las Vegas, NV 89101
Phone: 775-400-1011
Web: http://www.thelasvegashalloweenparade.com
Totally BOO-Dacious Halloween Party!
Get Ready to party like a Rockstar, or a ghost..or a Super Hero, or whatever you plan on dressing up for this Halloween at our "Totally BOO-Dacious Halloween Party!" We are looking forward to having all the latest and greatest characters under our roof for a night of Supervised fun! We've got games, contests, food and other cool surprises planned out! We're even throwing in a 'trick' or two....Oh Yeah and plenty of treats!!! So grab your BFF and come join us!! Parents night out! Drop the kids off for some fun and go enjoy some free time! Ages 5 & Up are welcome. $20 per person
When: October 30, 2015 from 5 - 9pm
Where: Perfection Cheer & Dance Academy, 7310 Smoke Ranch Suite N-O, Las Vegas, NV

Town SCARY Halloween
Town Square turns into Town SCARY this Halloween, and children of all ages are invited to trick-or-treat through the streets of Town Square as participating stores and restaurants will be passing out candy from 4 p.m. to 7 p.m. on October 31. Several activities will take place throughout the shopping center including a variety of children's games. Town Scary is free and open to the public. Children are encouraged to bring their own basket for trick-or-treating.
When: October 31, 2015
Where: Town Square Las Vegas
Phone: 702-269-5001
Fall Festival: Let His Light Shine
Enjoy trunk or treat, food, hayrides, cake walk, bounce houses and games for children.Child-friendly costumes are welcome. Bring your friends! For more information, please call Highland Hills at 566-0200.
When: Saturday, Oct. 31, 2015 from 5 to 8 p.m.
Where: 615 College Drive, Henderson
Web: http://www.hhbcnv.org/ministries/missions-ministry/fall-festival/
Halloween Pumpkinman 10K & 5K Run
Take part in one of the most famous endurance festivals in the Las Vegas area. The run course will remain on the paved roads inside the beautiful Boulder City. Thousands of athletes and spectators will attend this Halloween-themed event at Wilbur Square. Enjoy post-race activities, the largest BBSC expo, a post-race meal and make sure to dress up and show us your Halloween Spirit. Prizes will be awarded for the best costumes during the award ceremonies!
When: October 21, 2017
Where: Boulder City, NV
Web: http://www.bbscrun.com/pumpkinmanrun
Haunted Shark Reef at Mandalay Bay Las Vegas
Ghosts and goblins will take over theShark Reef Aquarium at Mandalay Bay. Enter the Haunted Reef's dark and eerie tunnels at your own risk as rattling chains, creaking doors and spine-chilling music replaces the jungle noises and soothing sounds of the ocean that typically fill the air at the aquarium.
When: October 31, 2015
Where:Mandalay Bay
Phone: 702-632-4555
The Undead Maze
Location this year will be at Town Square. This year The Undead Maze features a new, never been done before effect, a hay-bale maze and pumpkin patch for the kids. This non-profit Haunted House is scaring for a good cause. Proceeds will benefit the Nevada Youth Partnership for homeless youth.
Where: Southern Hills Hospital 9300 West Sunset Rd., Las Vegas, NV 89148
SHARED BY Wariya Landa with Team Emanuele Real Estate at Simply Vegas (702) 480-1533 3042 South Durango Suite Las Vegas Nevada 89117 if you are looking to buy or sell a home in the Las Vegas Valley give me a call . I appreciate the opportunity to earn your business. "Expect Excellence"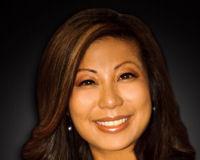 Author:
Wariya Landa
Phone:
702-480-1533
Dated:
October 26th 2017
Views:
459
About Wariya: Wariya Landa, Is a top producing Real Estate agent that has resided in Las Vegas for over 15 years....