30 Beautifully Creative DIY Christmas Decorations
Many of us are pinching our pennies these days, so extravagant Christmas decorations aren't at the top of our shopping lists. Luckily, the economic slump has inspired a creative crafters to create beautiful, simple, and affordable DIY decorations. We've gathered up 30 of our favorites to help you celebrate the season.

Wariya Landa with Team Emanuele Real Estate at Simply Vegas (702) 570-0073 3042 South Durango Suite # 105 Las Vegas Nevada 89117 if you are looking to buy or sell a home in the Las Vegas Valley give me a call . I appreciate the opportunity to earn your business. "Expect Excellence"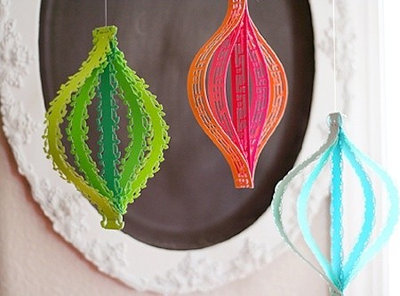 1. Colorful paper ornaments. If you need something new to spice up your tree, try these easy, modern DIY ornaments fromLisa Storms. Using border punches, she punched out patterns in colorful strips of paper in different lengths, and stapled together the ends so they buckle in the shape of an ornament.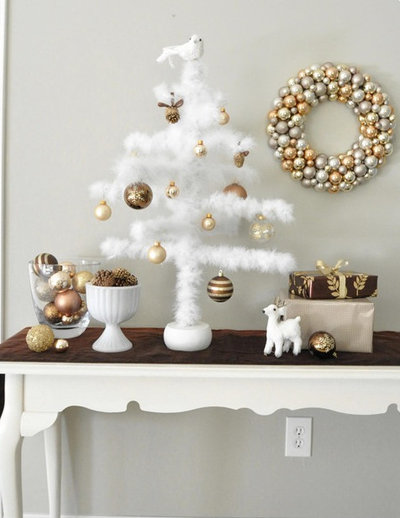 2. Feather ornament tree. Want to go glam this Christmas? Try making this marabou feather tree, courtesy of Kate fromCentsational Girl. Kate made this ornament tree out of dowel rods and a 12' length of marabou feather boa.
She made the tree form using one 3/4" x 36" dowel rod, six 1/4" x 36" dowel rods, a hand saw and a drill. Then she placed it into a wood bun foot from her hardware store. She painted the entire thing white, put it together with her drill, and then wrapped 12' of a marabou feather boa around the dowel rods.
Kate glued a cute white bird to the top of the tree for an extra touch, and then added some sparkly ornaments in metallic hues.
sarah & bendrix3. Modern holiday dinner party.Veronika ofA Few Things From My Lifetransformed her London dining room into the perfect setting for a chic holiday party.
A wreath hung from the ceiling becomes an impromptu chandelier, while evergreen trimmings, a linen tablecloth, and lots of candles create a subtle and elegant Christmas ambiance.
The sideboard at the end of the table turns into a bar for easy drink access and extra food storage.
sarah & bendrix Veronika's unique take on an advent calendar is beyond easy, and is wonderfully minimalist.
Office envelopes with bright pink lining fill up a poster board. Each envelope is numbered and filled with quirky holiday treats.
sarah & bendrix Veronika filled her wall shelves with Christmas lights, little wrapped boxes, and garlands of paper rings to complete the modern-crafty look of her dining room.
Paper garlands are a great, affordable Christmas decoration — try something simple like paper rings, or attempt more intricate paper snowflakes.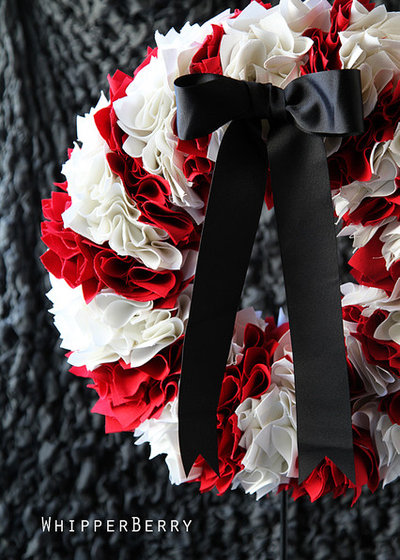 Heather Thoming4. Candy-cane striped wreath.For a festive wreath that'll last longer than the one you usually pick up with your Christmas tree, try your hand at this DIY candy-cane striped wreath from Heather ofWhipper Berry.
This flirty, ruffled wreath is the perfect way to welcome the holidays into your home. Check out thefull tutorial here.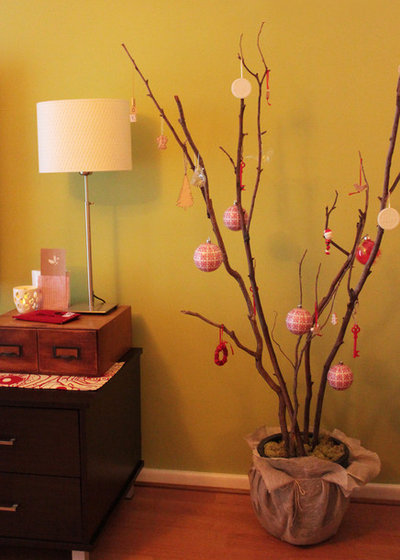 Atypical Type A5. Holiday decorations for small spaces. Alicia Parsons of Atypical Type Adoesn't haveroom for a full-sized Christmas tree in her house, so she's gotten into the habit of reusing one of her old wedding decorations — branches in a moss-filled pot — instead.
This is a great tip for anyone with a small apartment or a small budget!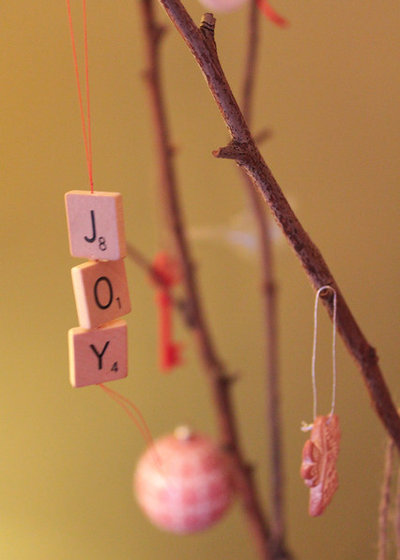 Atypical Type A Many of Parsons' ornaments are handmade. These little Scrabble letter ornaments are too cute! Parsons used a power drill with a fine bit to drill a hole through Scrabble letters and string together cheerful holiday phrases with festive red embroidery thread. Check out the full tutorial on her blog,here.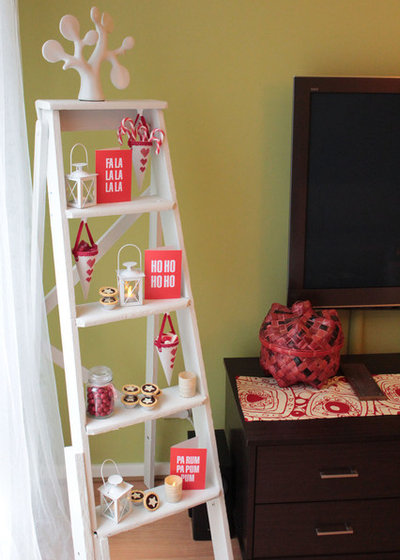 Atypical Type A Another space-saving tip from Parsons: Don't let your existing furniture limit you! She brought this ladder in from another room for an additional display surface. Get creative and think outside of the box — old suitcases, wine crates, and garden stools can all contribute to your holiday décor.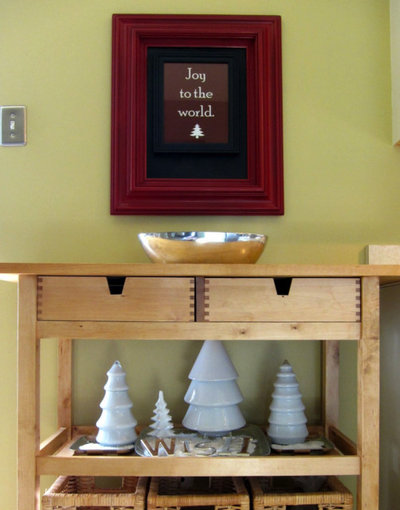 6. DIY "milk glass" forest.Shannon ofMadigan Madeloves crisp white holiday decor, and had a vision of a little white forest of trees covering her kitchen cart.
When she couldn't find what she was looking for, she decided to make it herself. She found plain glass tree-shaped candy jars and decided to spray paint them.
She wrapped the outside of the jars and lids with plastic and tape, and painted several thin coats of white — on the inside. Painting them on the inside gave them a more uniform look and prevents peeling. In the end, the pieces have an almost vintage, milk glass-like look.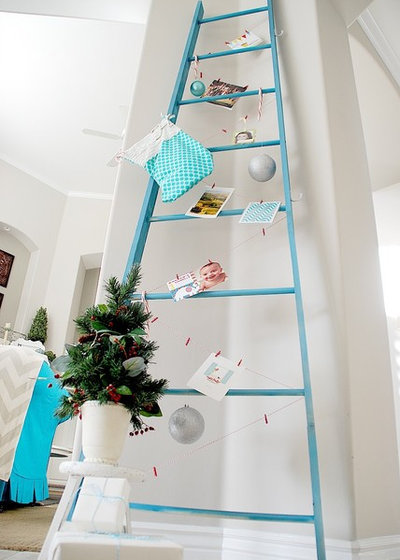 tatertotsandjello.com7. Advent calendar ladder. Jen Hadfield ofTatertots & Jellodecided to do something a little different for her family's holiday advent calendar. She wanted a good place to hang holiday cards, and thought that using a ladder would be festive and unique. When she couldn't find a good ladder at thrift stores, she made one.
She got a ladder in the exact size she needed, and the whole display cost her less than $20.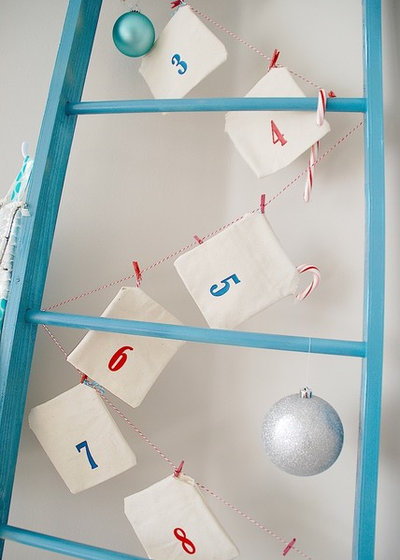 Hadfield painted it blue so that the ladder would go with the rest of her home's color palette. She can leave it up all year long and use it to display invitations, artwork, or just as decoration.
For the holidays, the ladder becomes a quirky advent calendar. Little canvas bags are attached to baker's twine with red clothespins; then Hadfield put hooks on the sides for Christmas stockings. This is a great alternative for anyone who doesn't have a fireplace!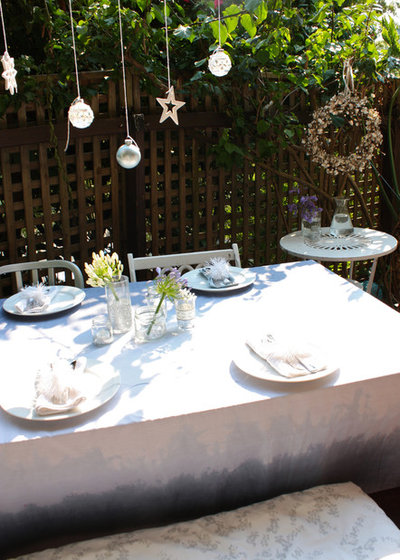 The Happy Home Blog8. Christmas dinner in the summer. For anyone living in Australia and New Zealand, Christmas comes in the middle of summer. Rather than getting warm in front of a toasty fire, odds are you'll be trying to cool down with an evening dinner outdoors. Belinda Graham of The Happy Home Blogset up a mix of indoor and outdoor chairs in her private courtyard for a simple Christmas meal. Light linens and flowers are accented with touches of glitter for a little holiday sparkle.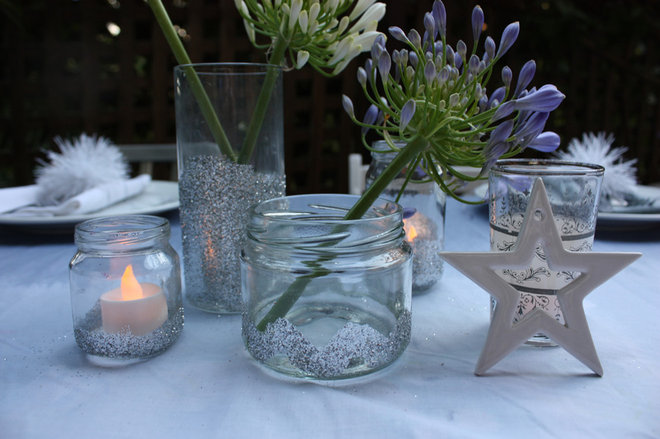 The Happy Home Blog To give standard jars and vases an extra special touch, Graham accented them with a little glitter, and then filled them with simple blooms and LED candles for a charming centerpiece for the table.
Christie Thomas9. Holiday garland for the anywhere. Christie ofThree Pixie Lanedecided to mix things up a bit by placing a holiday garland in a slightly unexpected place — the foot of the bed! A handmade red and white garland in her daughter's room adds a surprisingly festive touch to the space.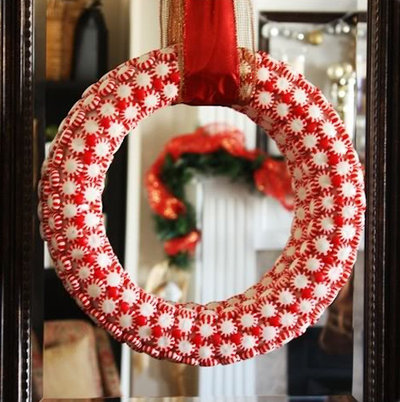 10. Clever peppermint wreath.Doesn't this look like a photo from a catalog? Believe it or not,Myra of My Blessed Lifemade this stunning Christmas decoration from three bags of peppermints, a hot glue gun, and a white foam wreath form.
She added a ring of Red Hots to fill some white space, and then hung the entire thing with a festive ribbon.
11. Warm and intimate holiday dinner. Lauren Hufnagl ofWith Two Catshas a lot of tips and tricks for entertaining large holiday parties in small spaces.
Mirrors and metallics helps a space look bigger, as does turning on the lights. If your space is already small and cozy, there's no need to dim the lights to make guests feel comfortable.
Hufnagl set aside a kids table for her holiday dinner setup. Brown craft paper is a great makeshift tablecloth — give kids a set of crayons, and they'll be occupied for the entire meal.
Heather Freeman Design Co.12. Merry and bright Christmas mantle. Curious about how Heather Freeman ofThe Lovely Cupboardgot her mantle to glow? This cheerful DIY art was made simply by sticking Christmas lights through the back of a canvas.
Freeman made all of this mantle art herself, and accented it with ornaments from Wal-Mart and deep green velvet stockings from Hobby Lobby.
Heather Freeman Design Co. Freeman made this extravagant looking wreath — rolled up music sheets glued together — at a craft party. A retro Merry Christmas sign adds a vintage touch.
The wooden village below is one of Freeman's most favorite possessions — her mother bought it for her and her brother on a family vacation to Germany when they were little.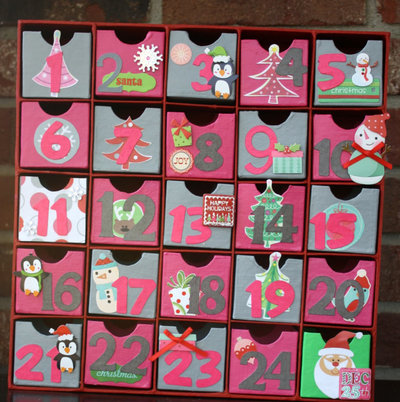 13. Simple advent calendar in a modern palette. Christy Wallace ofEveryday Giggleswanted to make a fun and colorful advent calendar for her 1-year-old daughter. Simplicity was key, so she went to Hobby Lobby and found a simple starter kit. Using her Cricut machine, paint, and a lot of decoupage, she gave the kit her own custom look. Instead of using more traditional Christmas colors, she decided to go with pink, red, and gray theme for a different look.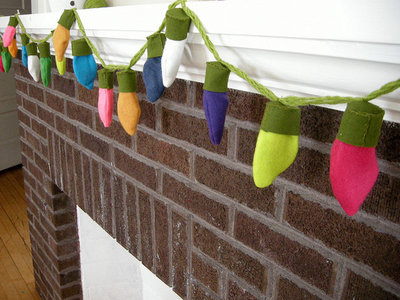 14. Christmas bulb advent calendar. Try your hand at a unique advent calendar like this one Meg Spaeth ofElise Marleymade for her children. Using a homemade pattern (found onher blog), she sewed this by hand out of felt.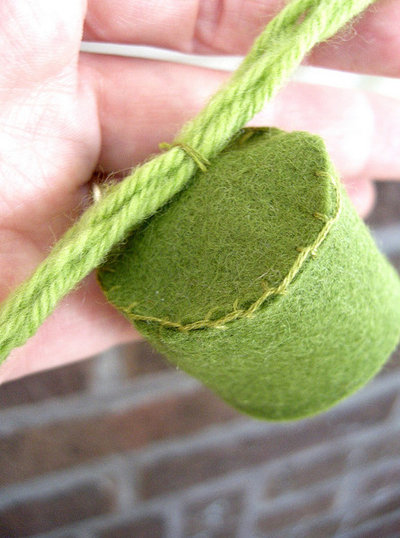 Each little bulb is a pocket that Spaeth fills with lightweight treats — notes, little ornaments, and candies — for her children to open each day before Christmas.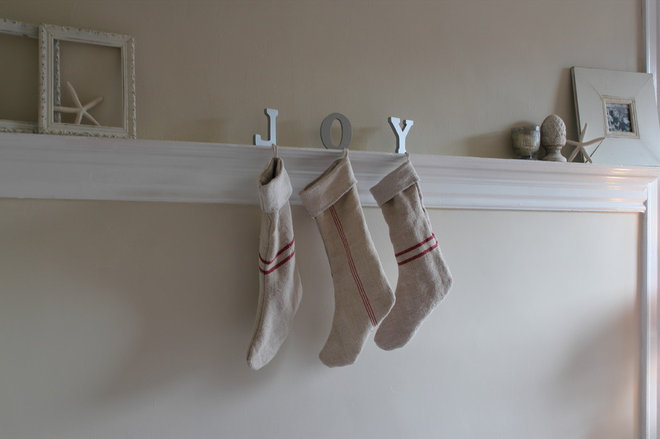 15. Elegant handmade stockings. Looking for a sophisticated stocking for your mantle? Houzz userMichele Cabotmade hers out of beautiful vintage French linens for an elegant and minimalistic holiday mantle. If you're tired of browsing stores for the perfect stockings for your family, try making your own unique versions out of fun vintage fabric.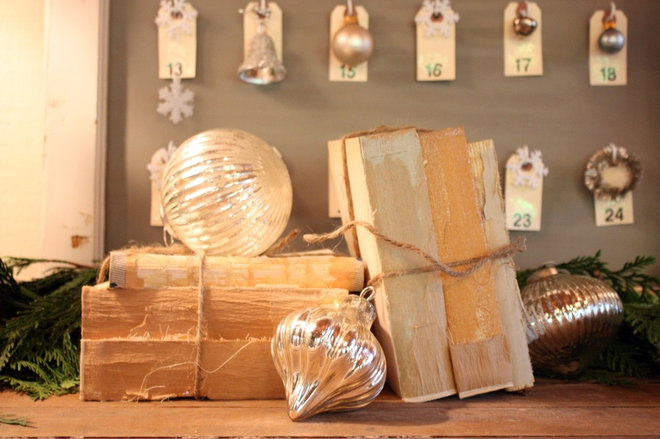 My Sweet Savannah16. Quick and easy holiday vignette. For a simple holiday display, Melanie Thompson ofMy Sweet Savannahfound some used books and removed the covers. This is a trick used for years by interior designers and retail stores, and is a great way to add a rustic element to any type of vignette. Evergreens and a few simple ornaments round out the look.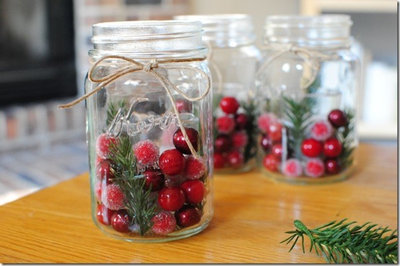 17. Affordable DIY Christmas candle holders. Kristin ofIowa Girl Eatskept her holiday decor affordable, simple and rustic. Mason jars were filled with votive candles, fake berries and spruce, and wrapped in a twine bow. Voila! They're perfect party decorations. Put them on a mantle and light the candles inside when it gets dark. Try using scented votives in vanilla or cinnamon for an extra holiday touch.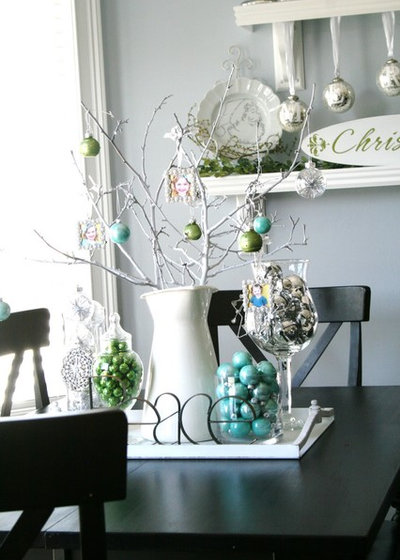 18. Christmas display in turquoise. Shelley Smith fromHouse of Smithsalways has an amazing holiday display in her dining room (check out her Halloween display inthis roundup).
Last year, she decided to avoid red and green and use colors that felt more wintery. She chose a palette of silver, green, and a little turquoise for this setup.
Although she decided not to do a Christmas tree this year, she still wanted to have a Christmas-tree like display. Spray painted branches hung with small ornaments became a fun and affordable alternative. Then she filled up glass votives with small baubles and trinkets for a little extra sparkle. Perfect!
Nicole Lanteri Design20. Chic black-and-white Christmas tree. Retro-looking all-white Christmas trees are making a huge comeback this year. Houzz professionalNicole Lanteriused a Parisian theme with hers. Simple black iron ornaments in the shape of the Eiffel Tower go perfectly with a chic black-and-white striped tree skirt.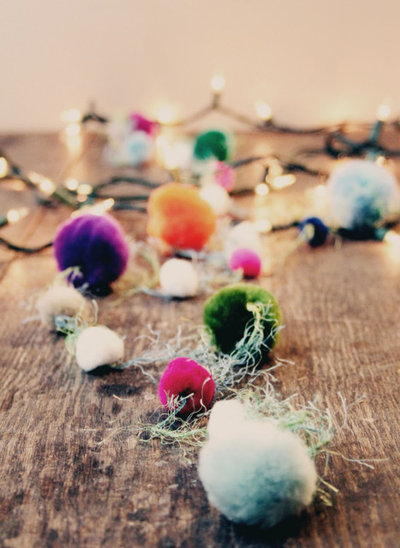 21. Whimsical pom-pom garland.If you have younger children running around, you might want to take a holiday decorating hint from Kristina ofReMade Simple: Make it unbreakable.
Since her holiday decorating theme this year was "childlike and whimsical," she wanted her garlands to be playful combinations of simple materials and bright colors.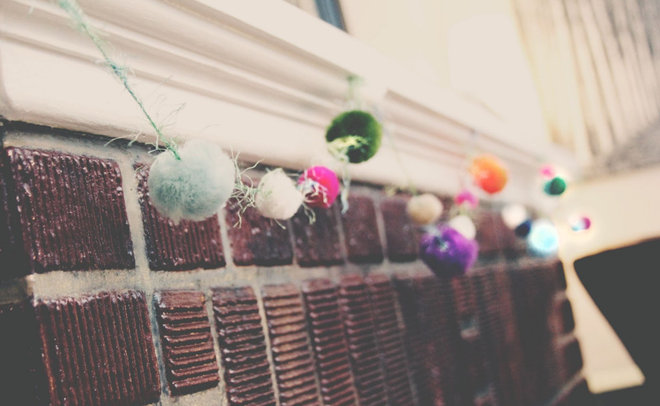 Instead of using colored glass or hard plastic, she made a trip to her local craft store and bought pom-poms, eyelash yarn, and a yarn needle. Making the garland was incredibly simple — just pull the yarn through each pom-pom until you have the spacing you want — so Kristina made an all white version too!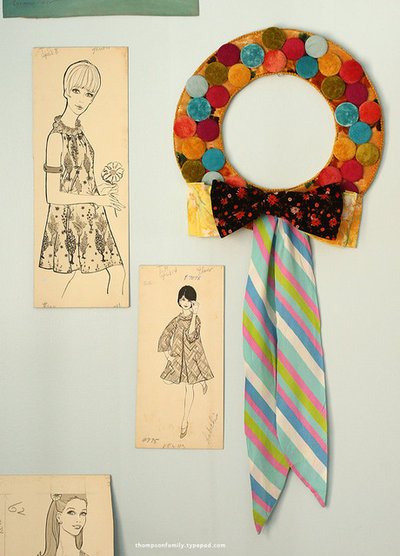 22. Vintage velvet wreath.Vintage maven Danielle Thompson made this eclectic wreath out of vintage fabric she had lying around. She wanted something with a mod, 1960s feel for her holiday decorations. Making something out of fabric also meant she could reuse the wreath year after year.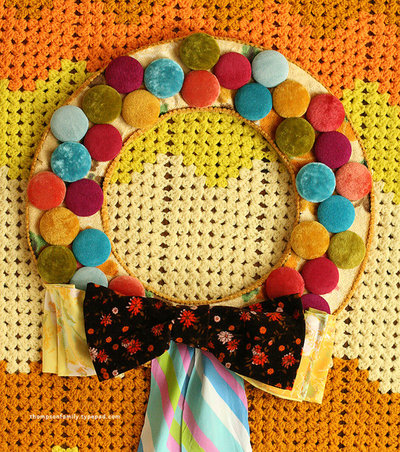 She cut a wreath form out of a foam core board, and glued and sewed vintage fabric (and buttons she covered herself!) to the fabric covered wreath form. She made a bow out of more vintage fabric and an old ascot, and attached it to the wreath. How cute is that? It's an adorable and unique wreath that (depending on what colors you choose) could be used for multiple holidays.
FOCAL POINT STYLING23. Holiday tablescape inpsired by nature. Houzz professionalLynda Quintero-Davidsused a white spray painted branch as the centerpiece of this holiday tablescape. If you're having problems coming up with ideas for your holiday dinner table, try sticking to something simple like this. Sometimes nature provides all the necessary decoration — spray paint a few branches and accent with some found pinecones, and you're set.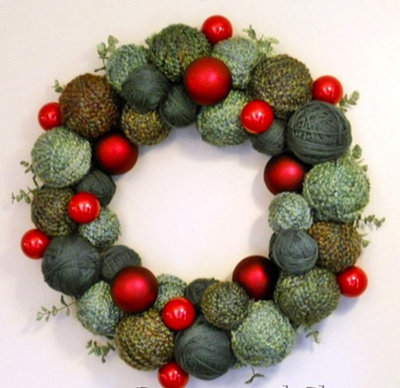 24. Crafty yarn ball wreath. Lisa ofRecaptured Charmput together this crafty wreath using styrofoam balls, yarn, and a wire wreath form. By wrapping the yarn around each ball in different directions, she was able to make it look like an actual yarn ball. She hot glued all of these faux yarn balls onto a wire wreath form, and mixed a few red Christmas ornament in as well for some color contrast.
Planet Fur25. No-muss, no-fuss Christmas tree. Do you hate dealing with a never-ending trail of dead pine needles? Try mixing it up a bit and use a set of branches in a vase to display your ornaments.
Small and large versions of this modern, DIY Christmas tree are becoming more and more common. Not only are they elegant, but they're affordable and much more eco-friendly than a real tree.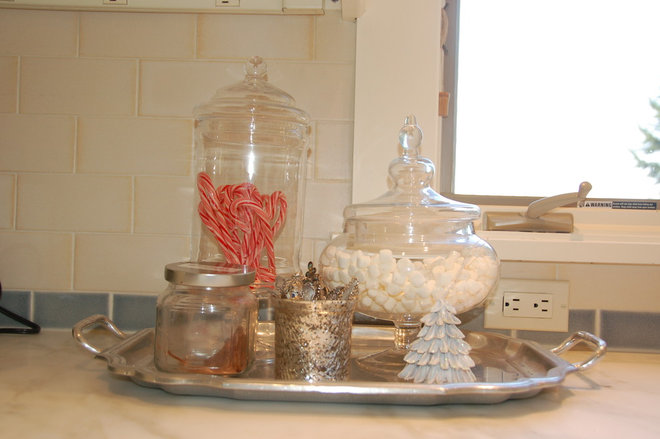 26. Quaint hot cocoa corner. Set up a hot cocoa table for guests. Houzz userstilesquinnused a festive sterling silver tray and old-fashioned candy jars to house hot chocolate mix, marshmallows, and candy canes — a perfect thing to set on the coffee table in your living room before your next big holiday party.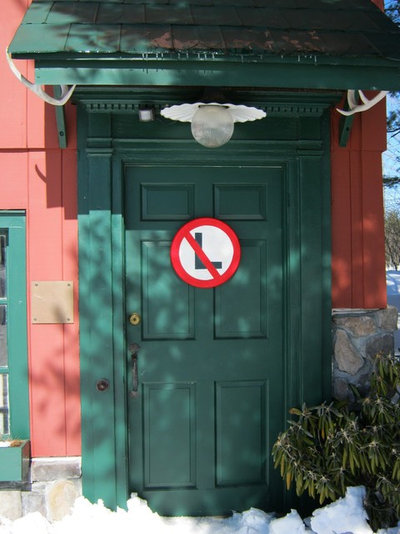 27. Clever Christmas riddle.Holiday decorations can be silly too! Read the sign out loud to see if you can figure out the riddle.
Gail of Can't Stop Making Thingscreated this hilarious sign using paint and a tabletop wooden round she found at Lowe's for $7.
The sign reads "No L" — "Noel!"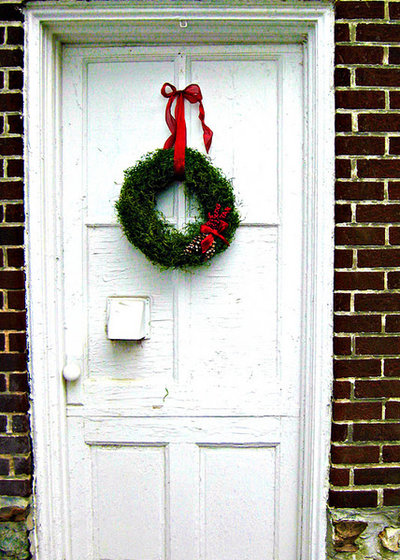 28. Moss wreath for every season. This simple moss wreath can be used for Christmas, but can easily be adjusted for spring or summer décor too. Aimee ofMy Pink Lifeglued a bag of moss onto a foam wreath form, and accented with a decorative pine cone and berry embellishment.
suzanne pignato29. Tropical Christmas tree. For a Christmas in South Florida, Houzz professionalSuzanne Pignatoskipped the traditional red and green Christmas palette and worked shades of turqouise and gold into her tree, accenting with shells and starfish for a beachy vibe.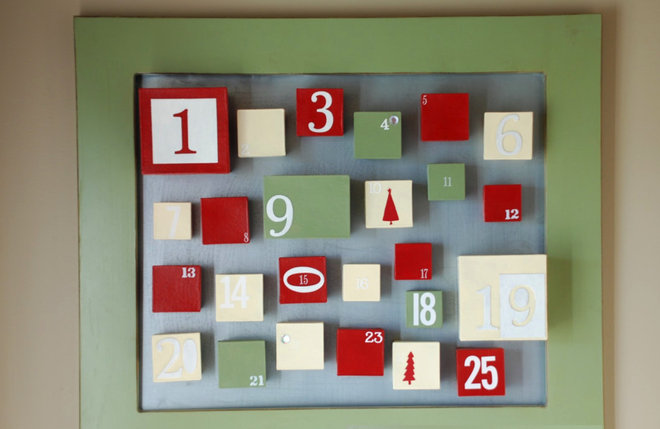 30. Magnetic advent calendar. Marie of My Lil Pink Pocketmade this adorable and re-usable advent calendar using papier maché boxes from her local craft store. After decorating them, she glued a small magnet on the back of each one and put them onto a small framed magnet board.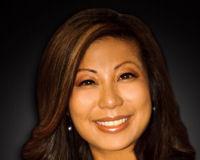 Author:
Wariya Landa
Phone:
702-480-1533
Dated:
December 1st 2015
Views:
2,189
About Wariya: Wariya Landa, Is a top producing Real Estate agent that has resided in Las Vegas for over 15 years....