10 Easy Low Cost Tips To Increase Your Home Value
10 easy ways to add value to your home
on a limited budget
1. Paint, paint, paint
One of the simplest, most cost-effective improvements of all is paint! Freshly painted rooms look clean and updated — and that spells value. When selecting paint colors, keep in mind that neutrals appeal to the greatest number of people, therefore making your home more desirable. On average, a gallon of paint costs around $25-$30, leaving you plenty of money to buy rollers, painter's tape, drop cloths and brushes. So buy a few gallons and get busy!
2. Plant a tree
If you aren't planning to sell your house today, plan for the future with a landscaping improvement that will mature over time. Plant shade trees — not only will mature trees make your home more desirable but a fully grown, properly placed tree can cut your cooling costs by as much as 40 percent. Mature landscaping is also good for the environment, providing a necessary habitat for wildlife while adding valuable curb appeal to your home.
3. Add a money-saving luxury
Speaking of water, here's another way to tap into extra savings; install a water filtration system in your kitchen. Not only do these systems purify your water, they will also lower your grocery bills — no more bottled water. A water filtration system is an inexpensive addition, but it's the sort of small luxury that homebuyers love.
4. Replace any worn carpets or area rugs
Take a look at your home's soft flooring. Are your carpets and area rugs stained or worn? Nothing turns buyers off more than the thought that they will immediately need to replace all of the flooring in a home. Ideally, you may want to replace them all, but if a limited budget puts a snag in that plan, start by replacing the carpet in the room that shows the most wear and tear and replace the others as your finances allow. If you have older carpets in your home, they might also be hiding contaminants and allergens which can affect air quality. If your carpets should be replaced, choose environmentally friendly natural products like tile or laminate floors. Hard-surface floors are much easier to keep clean, don't hold odors, give your home an updated look and, in general, are more appealing to buyers.
5. A messy lawn creates a bad first impression
Overgrown or patchy lawns and outsized bushes will cause your home to stand out — in a bad way. The good news is that taming your jungle is an easy fix. For a few hundred dollars, hire a lawn service company to trim your lawn and shape your hedges. Your curb appeal will go from messy to maintained without blowing your budget.
6. Cleanliness counts
The old adage that you only get one shot at a first impression is true. So, make the interior of you home shine from the moment someone walks through the door. For less than $400, hire a cleaning service for a thorough top-to-bottom scrubbing. Even if you clean your home regularly, there are nooks and crannies that you may miss or overlook. Let a cleaning service do the dirty work to really make your home sparkle.
7. Visually increase your home's square footage
The size of your home dramatically affects the value, but square footage isn't the only space that counts. Visual space or how large a home feels also counts. The key is to make each room in your house feel larger. Replace heavy closed draperies with vertical blinds or shutters to let light in — a sunny room feels larger and more open. Also, try adding a single large mirror to a room to visually double the space. Finally, clear the clutter. The more clutter, furniture and plain old stuff you have in a room, the more cramped it will feel. For less than $400, add an attractive shelving unit to an underused space and store your clutter out of sight.
8. Small bathroom updates equal a big return
Bathroom updates are always a smart move. Even if you can't afford a full remodel, small changes such as replacing dated wallpaper with a faux or textured finish and replacing old lighting will update the room without denting your wallet.
9. Go tankless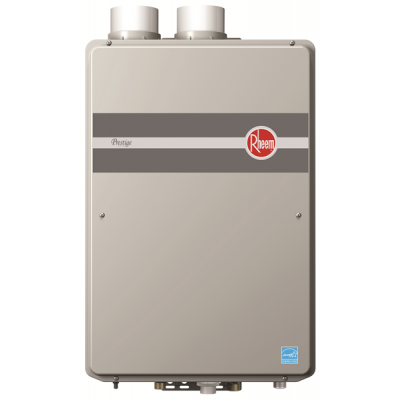 Upgrade your standard water heater for a tankless model. Most old-fashioned water heaters keep 50 or so gallons of water hot, seven days a week, 24 hours a day, whether you use the water or not. Tankless water heaters heat only the water you need as you need it. Not only will they save you money now, but they're an eco-friendly and cost-effective update that today's homebuyers are looking for.
10. Upgrade your appliances
Eighty-six the old-school appliances for sleek new energy-efficient ones. An appliance with an Energy Star label has been certified by the government to use 10-50 percent less energy and water than conventional appliances. Matching stainless appliances will not only look great now, but will make your home shine brighter than the competition should you decide to sell.
Thinking about Selling Your Home? Contact Us at Team Emanuele Real Estate
If you are thinking about selling your home, contact us at 702-572-4227 to schedule an appointment and allow us to help you maximize the value of your home.

Team Emanuele Real Estate will work closely with you to maximize your home value and provide the most aggressive marketing plan to help you get top dollar for your home.
For most people, your home is your most important investment so depend on the Real Estate Professionals at Team Emanuele to provide you with the best service in the industry. Call us today at 702-572-4227 and "Expect Excellence!"
Author:
Carlos Alvarez
Phone:
702-502-3970
Dated:
August 19th 2019
Views:
1,238
About Carlos: Carlos Alvarez has 20 years of real estate experience. He began his real estate career in Californi...